Subscriptions for the 3rd season of the Tri Nitro Tournament are open !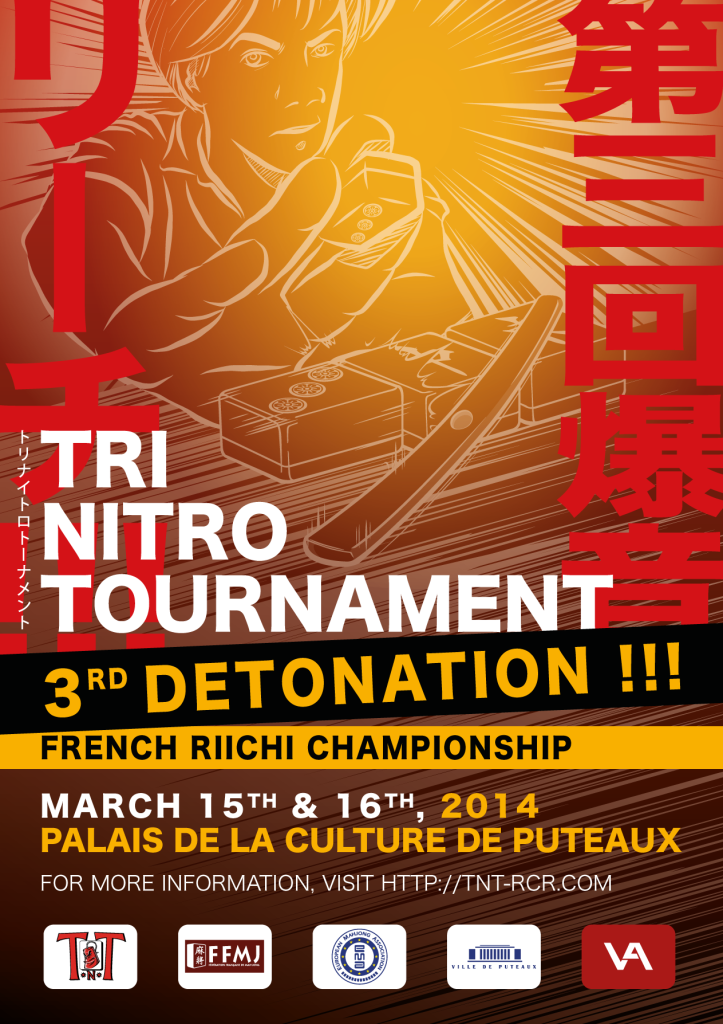 Designed by Yann Salmon
Before the first world championship, TNT organise another large tournament in Puteaux !
This tournament is a MERS2, and will decide who'll be the new French Champion 2014!
Date of the event : Saturday 15th and Sunday 16th march 2014
Rules : RCR, validated and available on the EMA website
Type de tournoi : MERS 2, Riichi, French championship
Referee : TBD
Observer : TBD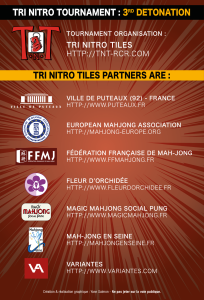 Suscription : Open until 1st Mars 2014
Max : 60
Reminder : To Participate to this internationnal tournament, french players have to be affiliate to FFMJ for season 2013-2014. Affiliation is possible when you registrate to the tournament, if needed.
Subscription fees to the tournament is 40€. It includes breakfast, lunch, and snack during the tournament (water, juices, tea, coffee…)
Subscription Validation : Subscription will be validated after paiement of the subscription fees. Paiement can be done by bank transfer, and no refund can be claimed
End of Subscription : Subscription will open until the 15 February 2014. After this, we will only register 4 people at the same time in order to create a new table.
Bank account :
Name : TRI NITRO TILES
Bank : Crédit Mutuel
RIB : 10278 06075 00020891501 33
IBAN : FR76 1027 8060 7500 0208 9150 133
BIC : CMCIFR2A
Tournament 's rules : 8 hanchans, EMA's rules
Schedule :
Saturday 15 March
09h30 – 10h00 : Registration
10h00 – 11h30 : 1st Hanchan
11h30 – 11h45 : Break
11h45 – 13h15 : 2nd Hanchan 
13h15 – 14h00 : Lunch
14h00 – 15h30 : 3rd Hanchan
15h30 – 15h45 : Break
15h45 – 17h15 : 4th Hanchan
17h15 – 17h30 : Break
17h30 – 19h00 : 5th Hanchan
Sunday 16th March
09h30 – 11h00 : 6th Hanchan
11h00 – 11h15 : Break
11h15 – 12h45 : 7th Hanchan 
12h45 – 14h00 : Lunch
14h00 – 15h30 : 8th Hanchan
15h30 – 16h00 : Break
16h00-16h30 : Reward ceremony
16h30 : End of the Tri Nitro Tournament