How to Contact us ?
To join us, you only need to come to one of our sessions or to send us a mail to:
tnt.rcr@gmail.com
When do we play?
We play:
Every Monday night from 7pm to 10 pm
Every Saturday afternoon from 3 pm to 7 pm
This excludes school holidays and tournaments (unless otherwise stated on the website).
It is not compulsory to stay the whole session and you may come at any time (it is however easier to find a free table at the beginning of a session).
Where do we play ?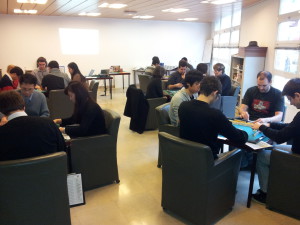 The TNT center is at:
45-47 rue des pavillons 92800 Puteaux
(You must ring the "Janitor / Gardien" bell situated beside the door)

Agrandir le plan
Transport ?
The club is :
15 minutes on foot from the RER A – station « La Défense » (RER A),
5 minutes on foot from subway station « Esplanade de la Défense » (Ligne 1)
10 min on foot from the Tramway station « Puteaux » (Tramway T2).
Bus lines 157, 158, 175, 541 pass by the club.
Price ?
Subscription is 35€ per year( From 1st September to 31th August). This sum allows us to buy material for the club
and to organize events
Suscription contains :
FFMJ Licence, that allow you to participate to official competitions

Club access, and access to other club in Paris
Access to animations in TNT (TNT Academy, Internal tournaments…)
Reduce prices for a few officials tournament, for purchasing a TNT T-shirt…
What if i'm a begginer, and i don't know rules at all ?
No problem ! We are here to teach you how to play ! (but in this case, it's wiser to send us an email on tnt.rcr@gmail.com to be sure an initiator will be present)